Hey Everyone,
Welcome to the Meganizers Street Team! We want your help to get the word out Megan Nicole and her music and live shows. We've put together this Street Team Page with everything you need. On the Promote Online and Onlinel Tools tabs, you'll find web banners, widgets, and videos that you can share online to help get the word out Megan's up and coming releases on iTunes and videos on YouTube.
FIRST MISSION ONCE YOU JOIN FANMANAGER
JOIN OUR NEW GROUP ON FACEBOOK HERE!!!
On Facebook we'll be able to answer your questions quickly, well be posting news, giving you tips on how to promote better online and also be posting missions.
JULY MISSIONS - PROMOTE AUGUST CONCERTS!
We need help spreading the word about the up and coming shows in LA and San Francisco
Here is the ticket link for San Francisco on August 4th
Here is the ticket link for LA on August 17th
Check out Online for different ways you can spread the word using Facebook, Twitter, YouTube, and other social networks
Report any work you've done to our site. Instructions on how to report are located in the How to Report tab above
Twitter
Follow and Re-Tweet anything from @megannicole
Tweet Megan news, videos, links and general excitement about the live shows!
Hashtag #meganicole in all messaging
Tweet out a Vine (6 second video) listing all of the friends you'd take with you on a summer vacation adventure. Tag #summerforever
Add a hashtag for #megannicole & #SummerForeverMay28 in your Twitter bio
Use a "Summer Forever" avatar / profile background pattern
Facebook
Update your status with Megan Nicole news, videos, and other content &

share posts from Megan's Facebook page

RSVP to Summer Forever Release Event
Add a Megan Nicole "Summer Forever" header on your page
Add a Megan Nicole photo, logo or "single release date" admat as your profile picture
Post the video on your friends Walls
Instagram
Take photos that remind you of Megan's songs and tag #meganicole
Take a picture of yourself doing your best impersonation of Megan and/or wearing Megan

T-shirts/caps/other clothes.

Share pictures meeting Megan in person
Take photos of past or future summer vacation spots and tag #summerforever
Instafy Summer Forever artwork on Instagram
Blogs and Forums
If you're a member of a forum, you can post topics about Megan Nicole or use our banners as part of your signature!
For blog owners, write articles about Megan and feel free to use banners to help spruce up your post.
Tell us how Megan's song "Summer Forever" relates to you on Tumblr. How would you would spend your ideal summer break with your friends and also on trip destinations? Or, tell us about the best summer you ever had. Please include many photos and videos.
Create positive chat in communities/chat rooms you hang out in
YouTube
Subscribe to Megan's Youtube Channel
Other Ideas
Purchanse, comment and rate the new song and video on iTunes, Amazon, AOL, VEVO, etc
Tune in and ask questions in the Ask Megan session on Youtube on May 27th at 5pm PST
Listen to Megan Nicole/Summer Forever on Spotify, Rdio, Google Music, Rhapsody and other streaming services. Share the track from these services
Add a link to the video/song/iTunes link as your G-Chat "custom message"
Email your friends about Megan / Add Megan's "summer forever" video, streaming track, iTunes link as part of your signature
Use iTunes "share" functions to spread the single around

Add Megan Nicole to your Google Alerts and comment on articles

Spread the word on any signings, events, and contests
Check into other Megan Nicole events by using Foursquare (and share check in across social media)
Use Megan Nicole Chat icons
Share your Megan clothing style or Megan merch items on Pinterest / Pin photos of Megan (tag all pins)
Throw a Megan Nicole inspired sleepover party
Tell your friends to join the street team, about the incentives, and that its another way to boost your Klout score.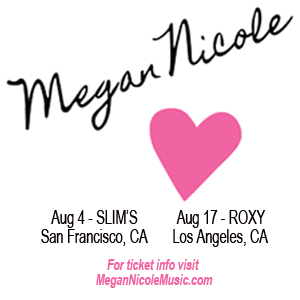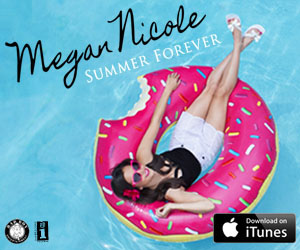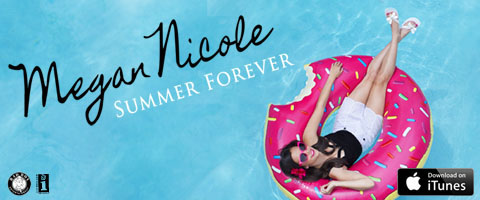 HOW TO REPORT
Log into this page

Visit the MEGAN NICOLE REPORT PAGE

On the Report Page, you will be able to upload screen shots, jpgs, etc.. of all of your work, and you can also put direct links to the sites where you have posted your banners. You will then receive "POINTS" for everything that you report to us.
PC:
Open up Microsoft Paint or Photoshop
Go to website where you posted your banner, widget, etc
Hold down "Alt" + "Print Screen" on your keyboard
Go to whichever program you opened, hold down "Ctrl"+"V"
Convert photo to a .jpg, and upload to the Reporting Page!!
Mac:
Go to website where you posted your banner, widget, etc
Hold down "Apple" + "Shift" + "4"
Hit "Space Bar"
Click Mouse
The file will appear on the desktop (The file name will be 'Screenshot' followed by the date), where you can then upload to the Reporting Page
TOP 10 POINT SCORERS IN LA ON AUGUST 17TH : 1 PAIR OF TICKETS TO THE SHOW
*** TOP POINT SCORER IN LA : MERCHANDISE BUNDLE AND A MEET AND GREET WITH MEGAN! ***